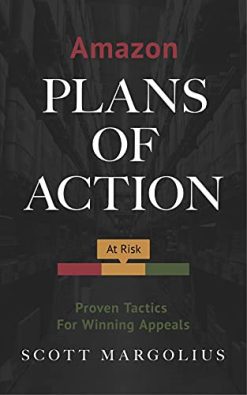 Amazon Plans of Action: Proven Tactics for Winning Appeals
$10
For the nearly 1.6 million active, third-party sellers on the Amazon Marketplace, Plans of Action are a part of doing business. And yet, most sellers are tormented by the process. In Amazon Plans of Action: Proven Tactics for Writing Winning Appeals, Amazon Account Health expert Scott Margolius demystifies POAs and delivers a proven formula for success. In this much-needed guide, you will learn how to:
*Turn your POA request into an opportunity for growth
*Properly research and establish Root Cause
*Speak the language of Seller Performance
*Avoid the most common mistakes which cause rejections
*Structure a succinct, specific, readable plan
*Prepare invoices which will be approved
*Make lasting changes to your business which will help fire-proof your ecommerce endeavors
Rich with examples from his seven-year history as a consultant, Margolius gives you the key strategies which have led to a 98% win-rate for his clients.
In an era when Amazon is cracking down on sellers more than ever before, this guide is a must-read for every single ecommerce business owner on the platform.
Amazon Plans of Action is a much-needed book for any and all Amazon sellers, no matter their experience level, sales history, or monthly revenues. Scott walks people through how to win an appeal with Amazon. Great book from a great consultant and great guy. I really couldn't recommend it more. If you sell on Amazon, get this book!
This book is easy to read, easy to apply, and genuinely helpful. If you want to have a better chance of being reinstated or winning a case, read it. Every Amazon seller should have this in their tool kit or they risk costly mistakes.
In order to have staying power as a business on the largest ecommerce platform on the planet, you HAVE TO learn how to successfully appeal cases. There is no way around it. Finally, someone has given sellers a fighting chance…in the form of the principles in Amazon Plans of Action: Proven Tactics for Winning Appeals.
Scott Margolius uses examples and clear writing to answer the perennial question: "What does Amazon want?!?" By explaining the thought process behind an appeal, his book helps sellers feel confident to tackle a wide range of suspension challenges. It is an asset to the seller community.
Scott Margolius is a trusted name in the Amazon consulting space for a reason. He consistently delivers for sellers when they are in the most dire of situations. Amazon Plans of Action is vital, concise, and practical. It has everything you need to navigate the murky waters of the Amazon appeal process.
My POA was rejected, with Amazon asking for more information. I contacted SCott, who edited my POA. It was accepted within 45 minutes! So thankful I found Scott and his book. Highly recommend!
Out of the blue, I received a message from Amazon notifying me they took down two listings. Not being an experienced seller, it has taken some time to research the best approach to address my Plan of Action Appeal to Amazon. After reading Mr. Margolius' tremendously helpful book, I dramatically altered my first POA rough draft. This is a quick read packed with examples and actionable advice; It is a must read to help calm the nerves of any Amazon Seller navigating a Plan of Action/Appeal communication.
I got an IP complaint and was using an attorney to help with the appeal. After a couple failed attempts, I purchased Scott's book. After reading his book, I submitted my third appeal and was successful! If you have not purchased it, I highly recommend you do so!